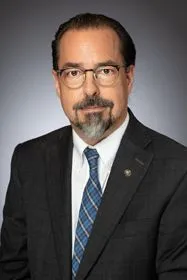 Stephen D. Newman, M.D., F.A.C.C., F.A.H.A.
Dr. Newman is a native to Texas and purchased his first stethoscope in fifth grade with money earned from a paper route after witnessing several family members and neighbors suffering the effects of poor lifestyle choices. He worked in laboratory medicine and radiology while in high school and worked under Marshall K. Dougherty, MD, in pathology and forensic medicine while in college. Dr. Newman received his BA from Austin College in 1983 with a major in Biology and completed his medical training at the University of Texas Medical Branch in Galveston, Texas in 1988. He concurrently completed medical school and research in Hematology with Dr. Bessman focusing on the utility of the red blood cell indices in detecting occult disease. He remained at UTMB to complete his Internal Medicine Residency and followed with his Fellowship in Cardiovascular Diseases. He completed his research studies in nuclear cardiology under the supervision of Dr. Marvin Kronenberg. He was a clinical instructor at the University of Texas Medical Branch in Internal Medicine and with the School of Allied Health Sciences Physician Assistant Program. He completed additional work in coronary artery CT angiography at programs in Newport Beach, CA (Hoag Hospital), Kansas City and Princeton Longevity Center.
He is a Board Certified Diplomate in Cardiovascular Diseases and Nuclear Cardiology. He is a Fellow of the American Heart Association's Council on Clinical Cardiology and a member of the Council on Nutrition, Physical Activity and Metabolism and Council on Epidemiology and Prevention. He is a Fellow of the American College of Cardiology and served 2 prior terms as Regional Councilor for the Texas Chapter of the American College of Cardiology. He is a Fellow of the American Society of Nuclear Cardiology and past member of the Committee on Government Relations and Community-Based Practice Standards. He is a member of the National Lipid Association and American Society for Preventive Cardiology. He is a Fellow of the American Association of Integrative Medicine, an Adjunct Assistant Clinical Professor at the University of Texas School of Nursing and Clinical Instructor for the UNT Cardiovascular Fellowship in imaging and prevention. He served as director of cardiovascular medicine and instructor at NTAMG/JPS Health System in 1994 to 1995. He joined Dr. Akhtar and Lobstein in 1995 to begin the Heart Center of North Texas. He has served as Director of Non-invasive Imaging for HCNT since 1995.
He has been voted to FW Top Docs, America's Top Physicians in Cardiology by Consumers Research Council, Leading Physicians of the World, Vitals Patients' Choice Award and Compassionate Doctor Recognition. He has contributed to articles in the Fort Worth Business Press, Fort Worth Star Telegram, Parker County Today and others regarding cardiovascular health as well as featured on WBAP radio and WFAA Good Morning Texas in Dallas-Fort Worth. He has co-authored chapters on cardiovascular medicine in Patient Education: A Practical Approach in 1996 while at the University of Texas Medical Branch and presented research on myocardial viability at the Second International Conference of Nuclear Cardiology, Cannes, France in 1995. He has lectured in the US, Mexico and the Caribbean on preventive cardiology and advanced imaging.
His professional interest is in Preventive and Integrative Cardiovascular Medicine and started the Centre for Heart & Vascular Health at HCNT. He works best with patients who are looking to thrive and not just remain in survival mode. He believes that individuals must be accountable for their health and that prescription medication should be temporary crutches and not lifelong practices. His philosophy is that you must treat the whole person and that sleep, nutrition and physical activity are necessary components to maintaining a healthy heart and vascular system. He uses nontraditional treatments and understands that meditation and yoga can reduce ones risk for cardiovascular events. He utilizes CIMT, Coronary Calcium Scoring and Advanced Biomarkers as well as more commonly used testing to evaluate his patients for cardiovascular risks. Individuals who are not in survival mode, but clearly want to understand their risks for heart and vascular disease and maintain their health will fit well with Dr. Newman and his staff.
Dr. Newman's Team:
Lupe Diaz, Clinical Liaison
Preventive and Integrative Heart & Vascular Health
Screening for Heart & Vascular Disease
CIMT and CT Coronary Calcium Scores
Vascular Disease Imaging
Smoking Cessation
Lipid Intolerance Clinic
Nutritional and Exercise Assessment
Sports and Athlete Screening for CV Disease
Advanced Lipid Testing and Biomarkers
Cardiac Rehabilitation
ShareCare link: https://www.sharecare.com/doctor/dr-stephen-newman