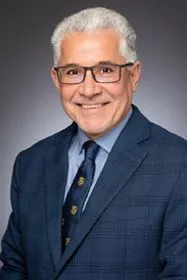 George S. Khammar M.D., F.A.C.C.
Dr. Khammar is an Interventional Cardiologist with the Heart Center of North Texas. He completed his undergraduate education and medical school in London, England. He is a graduate of Kings College School of Medicine, University of London ('87). He subsequently trained in Internal Medicine in London and qualified for Membership of the Royal College of Physicians, London ('91). He completed his Internal Medicine Residency at Baystate Medical Center in Springfield, Massachusetts ('94) and his General Cardiovascular Fellowship at the University of Oklahoma Health Sciences Center ('97). He then completed a dedicated year of Interventional Cardiovascular Fellowship at the University of Oklahoma Health Sciences Center ('98).
After completing his Interventional Cardiology training, Dr. Khammar joined the Cardiology faculty at the University of Oklahoma Health Sciences Center ('98-'02) where his responsibilities included the training of medical students, interns, residents and fellows in all aspects of General Cardiology and specifically the training of Cardiology Fellows in Interventional Cardiology.
He joined the Heart Center of North Texas in 2002. He now lives locally in Fort Worth with his wife and 3 children. He has a busy office and hospital practice. His office practice is primarily in Fort Worth. He also sees patients regularly in his Granbury office. His hospital practice is based primarily at the 3 large tertiary care hospitals in the Fort Worth hospital district (Medical City Fort Worth, Baylor All Saints, and Harris Methodist downtown).
Dr. Khammar's areas of expertise include the evaluation and treatment of patients with coronary and peripheral arterial diseases. He performs complex stent procedures. He has a thriving practice in General Cardiology, high risk cardiac pregnancy and patients with vascular heart disease. He is actively involved in clinical trials involving coronary and endovascular interventions. He has the support of multiple cardiology specialists at the Heart Center of North Texas, who specialize in Electrophysiology, Preventative Cardiology, Congestive Heart Failure, Non-Invasive and Invasive Cardiology.
Click HERE to read the 360 West Magazine's TOP DOCTORS 2019 article featuring Drs. Farhan Ali and George Khammar.
ShareCare link: https://www.sharecare.com/doctor/dr-george-khammar