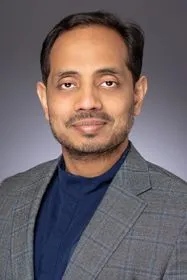 Akif Mohammed M.D., F.A.C.C., M.R.C.P.
Dr. Mohammed joined the Heart Center of North Texas in 2016. He was born in India as the ninth and youngest child. With his father passing away from a heart attack when he was two years of age, he has had to persevere through very difficult circumstances to get to the position he is at now. From a young age he has known he wanted to help cure heart disease. He joined Osmania Medical College, the highest ranked college in his state. Shortly thereafter, he went to England to further excel in his career. There, he earned an esteemed degree and became a member of the Royal College of Physicians.
Dr. Mohammed later came to Cleveland, Ohio in order to further pursue his dreams and he completed his Internal Medicine residency at Case Western University. Following which he pursued his career by doing Cardiology fellowship in one of national leaders in Cardiology, Henry Ford Hospital in Detroit and finished his Interventional Cardiology fellowship from St. John Hospital in Detroit.
Dr. Mohammed specializes in general cardiovascular diseases, interventional cardiology, peripheral vascular interventions, echocardiography, nuclear cardiology, cardiovascular computed tomography, heart failure, atrial fibrillation, congenital heart disease, pulmonary hypertension, venous insufficiency treatment of varicose veins as well as many other cardiovascular related diseases.
He is skilled in performing diagnostic cardiac catheterization and coronary stenting through radial access (via arm which is more convenient to the patients and with fewer complications than through the groin), peripheral atherectomy (including directional atherectomy, rotational atherectomy, and laser atherectomy), Impella device placement, IABP placement, carotid stenting, renal artery stenting, abdominal aneurysm stenting, mesenteric and celiac artery stenting, subclavian artery stenting, atrial septal defect and patent foramen ovale percutaneous closure, aortic valvuloplasty, right heart catheterization, temporary transvenous pacemaker placement, transesophageal echo and atrial fibrillation and atrial flutter electrical cardioversion, inferior vena cava filter placement, endovenous laser ablation and many other cardiac procedures.
Dr. Mohammed is board certified in:
Board Certified in Internal Medicine
Board Certified in Cardiovascular Disease
Board Certified in Adult Comprehensive Echocardiography
Board Certified in Nuclear Cardiology
Dr. Mohammed is academically very well accomplished and has given oral presentations at international conferences including American College of Cardiology, he has published articles in peer reviewed journals and has achieved several laureates during his medical school, residency and fellowship.
Dr. Mohammed was featured in a health promotion article that encourages healthy lifestyles to help prevent heart disease. (Click the link to read more) Weatherford Democrat News Article
Dr. Mohammed was featured in a Weatherford Democrat story regarding COVID-19 and the impact the virus has on the heart. (Click the link to read more) Weatherford Democrat News Article