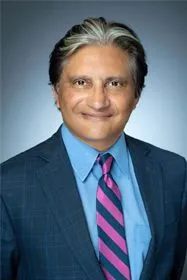 Amir Z. Malik, M.D., F.A.C.C., F.S.C.A.I.
Dr. Malik has been practicing cardiology in Fort Worth since 1998.
He moved here after completing his residency in Internal Medicine. His fellowship training in Cardiology and Interventional Cardiology were completed at the State University of New York at Stony Brook, NY.
He graduated from Army Medical College with honors in Internal Medicine, General Surgery, Ophthalmology and Pathology. He served in the Army Medical Corps prior to moving to New York.
He worked as an attending for a year at the VA Medical Center, Northport, NY. Currently he is a Board Member at Medical City Fort Worth, HCA Hospital.
In addition to his cardiac practice he is involved in academics and teaching of Cardiology trainees. He is the Fellowship director of the UNT/Medical City Fort Worth Interventional Cardiology Fellowship program and holds the title of Clinical Assistant Professor at UNT.
He is a Fellow of the American College of Cardiology.
He is a Fellow of Society for Cardiovascular Angiography and Interventions.
Dr. Malik performed Medical City Fort Worth's first Transcatheter Edge-to-Edge Repair (TEER) procedure, a minimally invasive treatment for mitral valve regurgitation. Click HERE to see the article.
Dr. Malik was published in the March 2018 Cath Lab Digest issue as a co-author of Novel Use of Corindus Robotic Heart Catheterization System for Tryton Side Branch Stent Placement. (click the link to read the article)
Dr. Malik co-authored a case report on Endovascular Repair of a Pseudoaneurysm Adjacent to the Ascending Thoracic Aorta Using a 25-mm Amplatzer Multi-Fenestrated Septal Occluder – Cribriform. This was published on the Vascular Disease Management website, the official news source for the international symposium on endovascular therapy. To read the article, click here.
Dr. Malik is a primary investigator of several ongoing clinical trials involving carotid stenting, peripheral vascular interventions, new anti-coagulant therapies and emerging lipid control therapies.
Since joining the Heart Center of North Texas in 1998, he has pioneered many procedures in Tarrant County. He was first to use drug eluting stents, carotid stents, PFO/ASD closure devices, VSD closure devices, peripheral directional atherectomy devices, and intra-vascular Brady therapy. He also performed the initial hybrid coronary revascularization procedure at Medical City Fort Worth. Additionally, Dr. Malik performs the Transcatheter Aortic Valve Replacement (TAVR) as well as the Watchman procedure.
Transcatheter Aortic Valve Replacement (TAVR) Video
His accolades include:
An award for setting the record for the fastest "Door-to-Balloon" (time to treat heart attacks) which was 7 minutes.
Being recognized as a "healthcare hero" in 2008 by the Business Press.
Selected as "Top Doc" in Fort Worth Texas Magazine in 2009.
He has treated patients as young as 11 and as old as 105 in his career.
Dr. Malik has privileges at:
Medical City Fort Worth
Baylor All Saints Hospital
Texas Health Harris Methodist Hospital
Medical City Weatherford
Huguley Memorial Medical Center
Cooks Children Hospital
Dr. Malik is Board Certified in:
Internal Medicine
Cardiovascular Disease
Interventional Cardiology
EndoVascular Medicine
He is skilled in right and left coronary angiography, coronary interventions (including stenting, athrectomy, embolectomy), complex coronary stenting, carotid stenting, peripheral vascular stenting (including renal, mesenteric, subclavian, cleac, iliac, femoropopliteal and below the knee stenting.) Also, Atrial Septal Defect closures, PFO closures, VSD closures, PDA closures, percutaneous perivalvular leak closures, valvuloplasty procedures, pacemaker placements, AAA stent grafting. Transesophageal echocardiogram, peripheral atherectomys (including directional atherectomy, rotational atherectomy, and laser atherectomy), Impella device placement, IABP placement, venous procedures including IVC filters, embolectomy, venous stenting, varicose vein treatments including laser ablation, radio-frequency ablation, sclerotherapy and stab phlebectomies.
Dr. Malik sees patients at the Fort Worth office location and runs a Heart Failure and Hypertension Clinic in addition to his office.
ShareCare link: https://www.sharecare.com/doctor/dr-amir-malik